Your Home for Top-Rated Chip Seal Equipment in Tennessee
BearCat Manufacturing provides one-stop shopping for your road maintenance business when you need top-rated chip seal equipment in Tennessee. Our legacy of engineering and making some of the best products in the industry began in 1969. Ever since, we have continued to innovate and create on the cutting edge of road maintenance equipment. In fact, we were one of the first companies to develop easier operating controls for asphalt and chip seal machinery. Thrown in our world-class customer service that is always there to answer your questions or replace parts, and it is a combination that cannot be beaten. Email us now to get in touch with our sales, service, parts, warranty, technical information, or customer schools departments.
What Makes BearCat Manufacturing Equipment the Best?
Our company continues to innovate and redesign to make continuous improvements on our top-rated chip seal equipment in Tennessee. In fact, our freshly redesigned operator seat is being called one of the most comfortable ever made in road maintenance equipment. Plus, our reputation for being one of the most dependable makers in the industry speaks for itself. If you are looking to save time and money, our chip seal equipment can help you accomplish those goals. Our easy to operate chip seal equipment cuts down on the materials and time it takes to finish your jobs.
Top-Rated Asphalt Distributors
BearCat Manufacturing allows you to pick from several great options with our top-rated chip seal equipment in Tennessee. Our available line of asphalt distributors includes the following models:
BC-502 Asphalt Distributor – Contractors have called this model a "legend" in the industry due to its unsurpassed production. This product comes with computerized rate control, a spray bar, heating system, and a steel tank.
Granulated Rubber Asphalt Distributor – This product allows you to move large amounts of viscous material all at once. Viscous materials are easily transported with this product's extra-large inlet pipes, internal auger, and high-performance diesel burners.
Dust Control Spray Systems – Our dust control spray systems work for new equipment and can replace ones on older equipment.
Asphalt Pull Trailer – BearCat Manufacturing's two-axle pull trailer can carry more than 20 tons of materials to your project site. In addition, it can also easily dump its load all at once.
Top-Rated Chip Spreaders
BearCat Manufacturing also allows you to pick from a few options for spreaders when you are shopping for top-rated chip seal equipment in Tennessee. You can choose from the following:
20' Tandem Spreader – This is our larger model that gives you a 10' to 20' extension to spread materials quicker and around a larger area.
16' Tandem Spreader – This is the smaller, but still efficient model. It features a high-capacity belt, folding rear hopper, and computerized rate control, like the bigger model.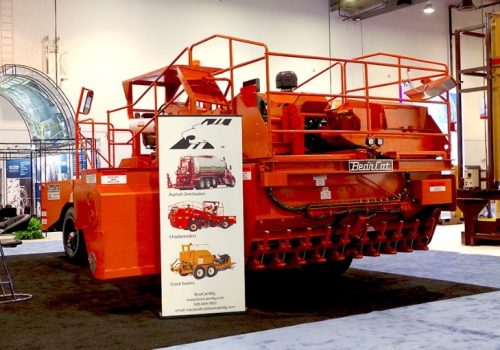 Contact Us for Top-Rated Chip Seal Equipment in Tennessee
BearCat Manufacturing makes it quick and easy to find the machinery you need. We are your source for top-rated chip seal equipment. Send us an email to request a free quote or learn more about our products. Also, you can give us a call now at 928-684-7851 to discover more information about our company.