The Best Results from Top-Rated Chip Spreaders in Tennessee
Take your road maintenance business to the next level with BearCat Manufacturing's top-rated chip spreaders in Tennessee. Our world-class equipment and customer service offers several great benefits that you help your company gain a competitive edge. You receive equipment with cutting edge technology and design features including hydraulic cooling systems, computer rate control, and durable construction. Consequently, your business can reduce demands on labor, material costs, and cut project completion times. Contact BearCat Manufacturing now to learn more about our world-class equipment and how it can help your asphalt contracting business grow. Along with excellent customer service, we provide you with helpful resources including product manuals, customer schools, and more!
Why BearCat Manufacturing is the Best Choice
So, why should your business invest in BearCat Manufacturing's top-rated chip spreaders in Tennessee. Well, the benefits your business receives provides some of the best return on investment in the road maintenance industry. These are some of the most popular benefits our equipment provides:
We offer 16-foot and 20-foot chip spreaders with a hydrostatic drive system, variable-width spread hopper, and other design elements that increase efficiency.
Durability – Our equipment gets built to last with a lifespan that exceeds alternative solutions, providing more for your money.
Money Savings – BearCat Manufacturing chip spreaders use recycled asphalt, reduces labor usage, and improves efficiency to get road maintenance projects completed more quickly.
What Makes Chip Seal Equipment a Good Investment?
Your road maintenance and asphalt contracting business can offer customers greater benefits with the best chip seal equipment in Tennessee. BearCat Manufacturing chip seal products improve the performance of pavement for roads, parking lots, and more. Here are some of the best ways your business can gain a competitive edge with our top-rated chip spreaders in Tennessee.
Greater Resistance – Chip seal pavement surfaces provide a more resistant barrier to moisture, water, and chemicals that seep below the surface and damage base layers.
Reduction of Glare – Motorists can travel more safely on chip seal surfaces because they do not create the glare effect caused by traditional asphalt.
Longer Lifespan – Chip seal surfaces last longer than unsealed asphalt because they provide greater protection from contaminants that degrade pavement surfaces.
Skid Protection – Chip seal pavement also better protects drivers from skidding than traditional asphalt because it is less slick during storms.
Protection from Degradation – Contaminants do not seep down below pavement surfaces and destroy base layers as easily with chip seal compared to traditional asphalt.
Self-Repairing Surface – During periods of high heat, chip seal asphalt binder softens and flows back together again, closing cracks and fixing imperfections.
Less Maintenance Costs – Chip seal surfaces eliminate the need to pay for crack sealing services that are required for asphalt.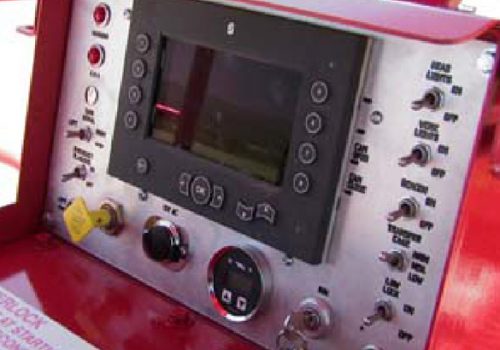 Contact Us
Get in touch with BearCat Manufacturing now if you need more information about our top-rated chip spreaders in Tennessee. You can call 928-684-7851 or fill out our online contact form to request a quote or ask a question. If your business is regional or nationwide, we can also provide you with excellent road maintenance equipment in Illinois, Texas, and Arizona.