Where Can You Find the Best Asphalt Machine for Your Business?
If trying to make a name for yourself as your area's best asphalt contractor, you need the best asphalt machines to back that claim up! Thankfully, BearCat Manufacturing has the answer to your equipment woes with our top-rated, high-production, high-quality asphalt equipment. Contractors, road maintenance crews and city municipalities throughout the United States have come to rely on the trucks, trailers and machinery produced by BearCat. To see what BearCat has to offer yourself, call us today!
What Are BearCat Machines Best For?
Asphalt maintenance and repair are essential services every asphalt contractor should offer. However, without the right equipment, you can't expect to offer these same services with a level of quality your clients expect. Thankfully, BearCat equipment is built to meet and exceed the needs of asphalt contractors and clients alike!
Asphalt Repair

Whether due to heavy traffic or severe weather conditions, asphalt pavement will deteriorate over time. However, just because you can't stop deterioration doesn't mean there aren't ways to slow or diminish it. Crack repair, for example, helps keep asphalt from crumbling and unraveling. With BearCat's crack sealers, contractors can quickly and easily mend pavement, helping extend the life of your asphalt.

Asphalt Resurfacing

When crack repair isn't enough, contractors can offer asphalt resurfacing, such as chip seal service. Chip sealing not only restores the look of pavement but also reverses most deterioration, strengthens asphalt, and creates safer driving conditions. You can achieve high-quality chip seal services with BearCat's asphalt distributors and chip spreaders. With distributors to spray liquid asphalt and chip spreaders for applying aggregate asphalt chips, you have the machines you need with BearCat.

Additional Systems

In addition to the best asphalt machines for roadway repair and resurfacing, BearCat produces equipment and systems that streamline, improve or simplify asphalt paving processes. For example, our SP-200 Roadtec Spray Paver combines asphalt spraying and chip laying into one process using one machine. Other custom systems we produce include our precoat chip foaming system (for improving the bonding between aggregate chips and liquid asphalt) and our cold-in-place recycling system (for recycling and reusing asphalt on-site).
Place Your Trust in BearCat
Since 1969, BearCat Manufacturing has produced advanced, high-quality, and highly efficient asphalt machinery for contractors throughout the road maintenance and asphalt paving industry. We continually strive to design machinery that's easy to operate and pushes the envelope for greener and cleaner paving solutions. BearCat began from a modified distributor truck and grew into the equipment manufacturer asphalt contractors depend on.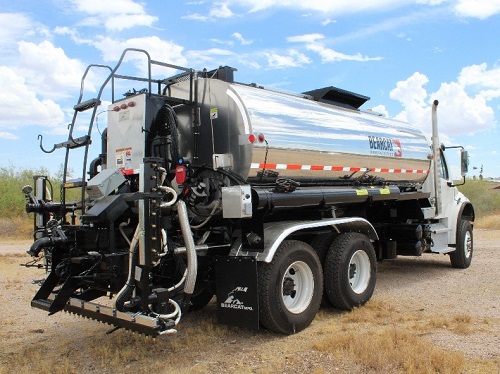 Learn More
Your asphalt contracting company deserves nothing less than the best asphalt machines. Ensure your business can always offer high-quality asphalt paving services with equipment designed and supplied by BearCat Manufacturing. Call 928-684-7851 to learn more or request a quote. We are located at 3650 N Sabin Brown Rd, Wickenburg, AZ 85390. BearCat Manufacturing is headquartered in Arizona, serving clients throughout the United States.