Offer the Best Asphalt Resurfacing Services with BearCat's Help
Rather than completely replacing an asphalt roadway, resurfacing is a potential alternative. Asphalt resurfacing is often a more cost-effective solution and can also benefit your pavement surface. One such resurfacing treatment, chip sealing, has become an increasingly popular option for asphalt maintenance. And with BearCat Manufacturing, you can secure the best paving equipment for chip sealing and other asphalt treatment options.
The Benefits of Resurfacing (and Chip Sealing)
Asphalt resurfacing is a service your company should be prepared to offer any client. While repair and installation of asphalt are important, many businesses or city municipalities will opt for maintenance, treatment and resurfacing options for asphalt before outright replacement. As such, some of the benefits you can offer clients through asphalt resurfacing include:
Longer Road Lifespan

The first and most obvious benefit of asphalt resurfacing is an extended lifespan for your pavement. After minimal crack repair, an asphalt roadway can be resurfaced to protect the asphalt underneath and create a new, fresh layer. Chip sealing, in particular, is especially effective in expanding your roadways' longevity, as it creates a surface that easily repels moisture and UV rays.

Improved Appearance

As asphalt ages and is exposed to weather and the sun's rays, its color begins to fade, and its surface dries out. Unfortunately, faded and cracked pavement doesn't leave a great first impression for companies looking to attract business! Thankfully, resurfacing helps restore pavement's color and seal cracks, creating a new, professional-looking surface!

Increased Safety

Passing traffic, exposure to UV rays, freezing temperatures and moisture all wear on an asphalt surface. Over time, your roadways' surfaces can fall apart and become uneven, causing problems and greater risks for drivers and pedestrians. Resurfacing corrects uneven pavement surfaces and can further improve the safety of asphalt. For example, chip sealing can create an anti-glare and skid-resistant asphalt surface.
The Equipment You Need
Asphalt resurfacing takes a few steps to complete and requires an investment in the right road maintenance equipment. BearCat Manufacturing produces some of the best paving machinery in the asphalt industry, with equipment that's incredibly durable, highly productive, and easy to control. Our products include:
Crack Sealers – Before most resurfacing, crack sealing might be required. BearCat's crack sealer machines are designed to offer quick start-up, greater heating capacity, and fully comply with DOT regulations.
Asphalt Distributors – Our asphalt distributors can provide your asphalt with additional layers of protection or assist in the first step of the chip seal process. Distributors are easy to operate, with computerized rate control, extended spray bars, and high-capacity steel tanks.
Chip Spreaders – Chip sealing is one of the most effective and affordable asphalt treatment options. As such, chip spreaders assist with one of the last steps in the chip seal process. BearCat's chip spreaders feature high production rates with computerized rate controls, flood gate controls, and additional features.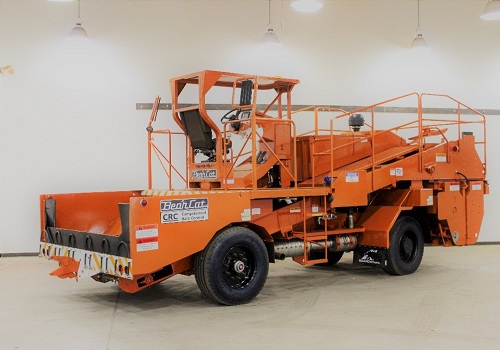 Talk with the BearCat Team
When your clients seek asphalt resurfacing, ensure your asphalt contracting businesses can meet the demands of your community with the best paving equipment! Call BearCat Manufacturing today to learn more about our road maintenance machinery. You can contact us at 928-684-7851. We are located at 3650 N Sabin Brown Rd, Wickenburg, AZ 85390. BearCat Manufacturing is headquartered in Arizona, serving clients throughout the United States.