Shopping for Top-Rated Crack Sealers in Texas?
Then, look no further than BearCat Manufacturing for globally renowned pavement maintenance equipment and top-rated crack sealers in Texas. Clients from around the world trust our products over alternatives when they need to repair driveways, parking lots, highways, and city roads. Our story as a cutting-edge world leader for crack filling and sealcoating solutions began all the way back in 1969. Engineers from our company produced the first fully cab-controlled liquid asphalt distributor within our first year in business! Ever since, our reputation for making equipment that delivers the best performance, comfortability, and durability has been unmatched. So, contact us now to request a free estimate on our top-rated crack sealers in Texas.
Why Should I Seal Asphalt Cracks?
Industry insiders at roadresource.org provided the most compelling case for using our top-rated crack sealers in Texas. They reported that 75% of unsealed asphalt pavement cracks will eventually become potholes within 3 years. On the other hand, only 1% of sealed cracks will deteriorate and form potholes over that same period. Consequently, sealing asphalt cracks offers you one of the most affordable and effective ways to maintain your asphalt pavement surfaces. In most cases, sealing cracks will extend the useful life of your pavement for 3 to 5 years. In addition, crack sealing offers these other great benefits:
Safer Road Conditions – Sealing asphalt makes it watertight. As a result, the surface does not get as slick as unsealed surfaces. Consequently, sealed roads provide safer driving conditions during rainstorms or snow showers. Studies show that sealed roads also reduce the amount of vehicle damage.
Less Maintenance – Sealing asphalt will also reduce the amount of maintenance required for pavement when compared to unsealed surfaces. That is because sealing the asphalt will prevent moisture and water from seeping below the asphalt. Consequently, the sealant protects the asphalt and base layer underneath from deterioration due to water damage.
How Do You Seal Cracks Effectively?
Asphalt Pro Magazine reports that the trick to getting the best results from crack sealing is to do it before the pavement becomes too compromised. Unfortunately, crack sealing cannot deal with some forms of severe pavement damage like alligator cracks. However, filling cracks provides an ideal solution for less severe damage such as block, thermal, longitudinal, edge, reflective, or transverse cracks. Also, temperature matters when you are picking when to seal cracks. Ideally, you will wait to fill cracks until the pavement temperature reaches 40 or more degrees Fahrenheit. If you must seal cracks in colder conditions, you may want to use a heat lance on the asphalt. Otherwise, you will not get desired adhesion with the sealant.
Why Buy BearCat Manufacturing Equipment?
Our equipment and pavement maintenance solutions are trusted all over the world. We spent years developing equipment that provides the best performance, comfortability for operators, and durability. Plus, we support your purchase with resources such as training in our customer schools, product manuals, and our video library. Trust BearCat for top-rated crack sealers in Texas and other great equipment including: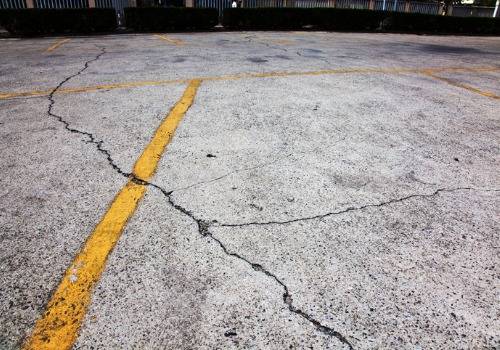 Request a Free Estimate for Crack Sealers
Are you looking to learn more about our top-rated crack sealers in Texas? Then, let BearCat Manufacturing provide you with answers to your questions. Simply fill out our online contact form or email us at equipsales@bearcatmfg.com. Give us a call at 928-684-7851 to request a free estimate.