Where Can You Find Top-Rated Asphalt Distributors for Texas Contractors?
Everything is bigger in Texas, as are the asphalt paving projects contractors in the Lone Star state receive! However, when tackling some of the largest, toughest asphalt paving jobs in the U.S., you need the right equipment. Here's where BearCat Manufacturing has you covered! BearCat designs and produces top-of-the-line asphalt equipment, including the best asphalt distributors for Texas contractors. If you are interested in what BearCat has to offer, contact us today!
Quick, Accurate & Efficient
Few asphalt contractors operate without the assistance of asphalt distributors. In truth, distributors have become a crucial component for most successful asphalt paving projects. Contractors rely on asphalt distributors for their ability to:
Keep Asphalt Fresh

Preparing hot, liquid asphalt on site can be challenging without the right tools, and asphalt storage can be even more difficult. Thankfully, when using asphalt distributors, liquid asphalt can be prepared before a job and transported effortlessly to any location. Our distributors can hold up to 5,000 gallons of liquid asphalt, ensuring asphalt stays fresh and usable with insulated tanks and a heating system.

Fast and Accurate Work

Before the introduction of asphalt distributors, spreading liquid asphalt would take significant time and effort to complete. Now, a distributor can easily spray liquid asphalt over any surface quickly and accurately. Our distributors' spray system quickly and evenly distributes liquid asphalt across any pavement surface, with minimal need for manual intervention.

Reduced Need for Labor

Having your crew tied up on one asphalt paving project per day can cut significantly into your bottom line. For this reason, contractors rely on the convenience of asphalt distributors. An asphalt distributor is easy to control and requires only one to two operators. By reducing the "manpower" necessary for a paving job, you save money and free up your crew for additional jobs.
Check Out Our Distributor's Features!
BearCat's asphalt distributors for Texas contractors are some of the most durable and reliable asphalt machines available. We strive to create equipment that's easy to use, long-lasting, and effective in function. To this end, our distributors were designed with features like:
Closed loop hydrostatic pump drive system
Heating system with heated asphalt pump
State of the art Computer Rate Control (CRC)
Tri-valve manifolds
Unloading and breaking systems
Steel tanks with sizes from 1,000 to 5,000 gallons
Spray bar and spray valves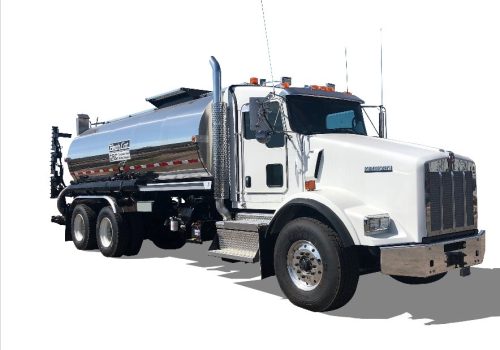 Talk with Our Team
When you're ready to make an investment in the best asphalt equipment for your business, start with BearCat Manufacturing's asphalt distributors in Texas. To learn more about our distributors or other asphalt equipment, contact BearCat today at 928-684-7851. We are located at 3650 N Sabin Brown Rd, Wickenburg, AZ 85390. BearCat Manufacturing is headquartered in Arizona, serving clients in Illinois, Texas, Tennessee, and throughout the United States.