Road Maintenance Made Easy with the Best Industrial Asphalt Equipment
Maintaining our country's roadways is no simple task. Asphalt companies throughout the U.S. are continually working to keep up with their communities' paving and road maintenance demands. However, to ensure they can meet the needs of businesses and municipalities, asphalt companies require the best industrial asphalt equipment available. Thankfully, with BearCat Manufacturing, you can find machinery that meets and exceeds the expectations of contractors.
What We Offer
BearCat supplies high-quality and top-rated machinery for asphalt preservation, repair and installation. From crack repair to chip seal services, our equipment helps contractors provide the services their clients most request. For example, some of our primary products include:
Asphalt Distributors
An asphalt distributor is crucial for nearly every asphalt paving project. Trucks equipped with large heated tanks and sprayers can transport and distribute liquid asphalt onto any pavement surface. With an asphalt distributor, your company can offer services such as sealcoating, chip sealing, emulsion spraying, and more. Ultimately, the asphalt distributor is a necessary addition to your fleet of paving equipment.
Chip Spreaders
While a chip spreader is primarily used for chip sealing services, chip seal is one of the most requested asphalt preservation methods. Thus, having the equipment to implement chip sealing properly is vital for all asphalt contractors. With BearCat's Tandem Chippers, asphalt aggregate is evenly distributed across roadways, making for a straightforward rolling and adhesion process afterward.
Crack Sealers
Every asphalt contractor should have the ability to repair cracked roadways quickly. As such, BearCat's crack sealers can meet the road repair needs of your clients. Our crack sealers are efficient and easy to maneuver, making crack repair as simple as possible. Moreover, by offering crack sealing, clients will come to rely on you for continual road maintenance and support over the lifespan of their asphalt.
Custom Equipment
In addition to our standard products, BearCat also produces custom industrial asphalt equipment. Examples of our custom equipment include spray pavers, precoat chip foaming systems, cold-in-place recycling, etc.
Spray Pavers – Combine the process of laying asphalt and aggregate into one step.
Precoat Chip Foaming System – Precoats asphalt chips for more efficient bonding during chip sealing.
Cold-in-Place Recycling – Equipment that converts old asphalt into usable recycled asphalt on the spot.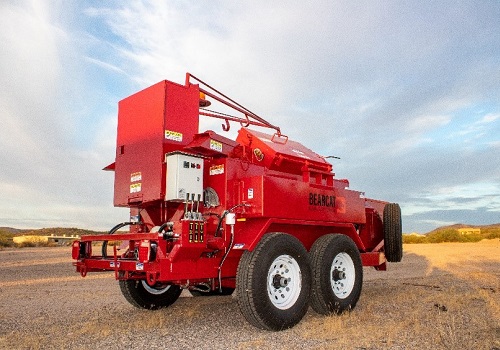 Learn More About Our Products
Asphalt contractors throughout the United States rely on BearCat Manufacturing's impressive line of industrial asphalt equipment. To ensure your asphalt contracting company has the machinery it needs to become a success, count on support from the asphalt experts at BearCat. To learn more about our products, contact us today at 928-684-7851. We are located at 3650 N Sabin Brown Rd, Wickenburg, AZ 85390. BearCat Manufacturing is headquartered in Arizona, serving clients throughout the United States.