Improve the Quality of Asphalt with Chip Spreaders in Tennessee
To ensure the success of your asphalt contracting company, you require the equipment necessary for offering popular asphalt treatment, such as chip sealing! And for chip seal services, chip spreaders in Tennessee are the most essential piece of equipment you'll need. Without chip spreaders, asphalt contractors lack an essential service asked of many municipalities and property owners throughout the Volunteer State. To ensure your company can offer the best, most effective asphalt maintenance and restoration, invest in chip seal equipment from BearCat Manufacturing!
Why Chip Sealing is the Go-To Asphalt Treatment
There are dozens of different repair, maintenance and restoration methods focused on the upkeep of asphalt. However, chip sealing has proven to be among the most effective asphalt treatments available. Chip sealing isn't only preferred for its effectiveness, but it's one of the safest and most affordable methods for complete pavement restoration!
Strengthen Your Roadways

Cracked and crumbling pavement cannot support the weight of consistent traffic for long. Eventually, your asphalt will further unravel, creating an unsightly and unsafe pavement surface. Thankfully, applying a chip seal overlay restores crumbling pavement and strengthens it against future stress and deterioration.

Increase Your Pavement's Lifespan

In addition to strengthening pavement, chip sealing protects your asphalt against significant deterioration. Factors like moisture, chemical spills, sunlight exposure, extreme shifts in temperature, etc., can negatively impact the condition of asphalt. With a chip seal surface, your roadway's resistance is increased, extending its lifespan by as much as 12 years!

Create Safer Driving Conditions

Another benefit of chip seal services is the creation of safer driving conditions. The aggregate chips used in chip sealing create more traction across the pavement's surface, ensuring less slipping and skidding from drivers during rain or freezing weather. Additionally, chip seal surfaces are better at absorbing sunlight, being anti-glare and reducing eye strain for drivers on sunny days.
Invest in BearCat's Chippers!
You require the best equipment to offer quick and cost-effective chip seal services. Thankfully, BearCat Manufacturing has you covered. Our chip spreaders for Tennessee are some of the best available, promising fast, accurate and even spreads of aggregate chips across any pavement surface. Some of our Tandem Chippers' best features include:
Tier 3 or 4 6-cycle diesel engine
Hydraulic cooling system to ensure standard operating temperatures
State of the art Computer Rate Control (CRC)
Hydraulically driven position-sensing cylinders
HSLA steel construction tandem hoppers for straight line starts and minimal aggregate waste
Low maintenance, non-contracting ultra-sonic belt sensors for measurement of chip pile height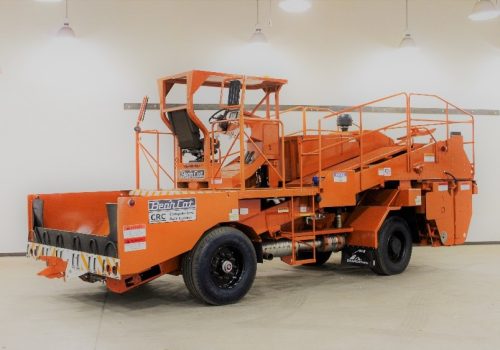 Call BearCat
To begin offering popular and highly-effective chip seal services, ensure you're only using the best equipment available. Find top-rated chip spreaders in Tennessee through the asphalt experts at BearCat Manufacturing. To learn more about our additional chip seal equipment and asphalt products, contact us today at 928-684-7851. We are located at 3650 N Sabin Brown Rd, Wickenburg, AZ 85390. BearCat Manufacturing is headquartered in Arizona, serving clients in Illinois, Texas, Tennessee, and throughout the United States.